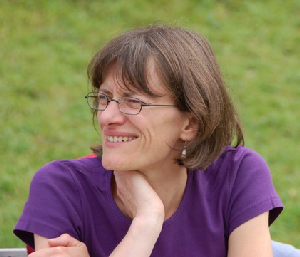 Susanne Hatlie
geb. Scheible, 1967-2019
Online-Gedenkseite von Susanne / online memorial
Susanne Hatlie ist im Oktober 1967 in Bretten geboren und in Mühlacker/Enz mit ihrer Mutter und zwei Brüdern aufgewachsen. Ihr Vater starb an einem Unfall als sie neun war. Sie spielte Klavier und war aktiv im Schwimmverein Wasserfreunde Mühlacker 1920 e.V. und machte am Theodor Heuss Gymnasium in Mühlacker ihr Abitur. Nach einem Praktikum in der Betreuung behinderter Kinder und einer Krankenpflegeausbildung in Schorndorf studierte sie Pyschologie an der Universität Konstanz.
Sie heiratete Mark Hatlie im Juli 1997 und sie zogen im Januar 1999 nach Tübingen, wo Mark mit der Forschung für seine Promotion begann. Im August 1999 kam ihre Tochter, im Oktober 2002 ihr Sohn zur Welt. Von 2006 bis zu ihrem Tod im April 2019 arbeitete sie an der medizinischen Reha für psychisch Kranke in Reutlingen. Sie ist sehr gerne gewandert. Das Bild zeigt sie 2010 bei einer Wanderung in Tirol in ihrer Lieblingsfarbe, Lila.
Susanne hatte schon mehrfach unter Depression gelitten. Seit dem Herbst 2018 war es zu einer zunehmend schweren Depression gekommen, dieses Mal gekoppelt mit chronischen Rückenschmerzen. Sie nahm sich im 26. April 2019 das Leben. Die Trauerfeier fand am 7. Mai 2019 mit weit über 100 Trauernden statt. Ihre letzte Ruhestätte befindet sich im Gräberfeld 48, Grab Nummer 18 auf dem Bergfriedhof in Tübingen.
Eine Webseite für Kondolenzen, Erinnerungen, Abschiedsworte, Anekdoten usw. und "virtuelle Kerzen" findet man online unter https://rilling-und-partner.gemeinsam-trauern.net/Begleiten/susanne-hatlie. Im Moment ist die Seite noch für alle öffentlich zugänglich. Ihre Todesanzeige ist online.

Obituary in English
Susanne Hatlie was born in Bretten in October 1967 and grew up in Mühlacker/Enz with her mother and two brothers. Her father died in an accident when she was nine. She played the piano and was active in the swimming club Wasserfreunde Mühlacker 1920 e.V. and graduated from the Theodor Heuss Gymnasium school in Mühlacker. After an internship caring for handicapped children and training as a nurse in Schorndorf, she studied pyschology at the University of Constance.
She married Mark Hatlie in July 1997 and they moved to Tübingen in January 1999, where Mark began research for his doctorate. Their daughter was born in August 1999 and their son in October 2002. From 2006 until her death in April 2019, she worked at the medical rehabilitation center for mentally ill people in Reutlingen. She loved to hike. The picture shows her in 2010 during a hike in Tyrolia in her favourite colour, purple.
Susanne had suffered from depression several times before. Since the autumn of 2018, she suffered from an increasingly severe depression, this time coupled with chronic back pain. She took her own life on April 26, 2019. The funeral service took place on 7 May 2019 with well over 100 mourners. Her final resting place is in cemetery section 48, grave number 18 in the Bergfriedhof cemetery in Tübingen.
A website for condolences, memories, farewell words, anecdotes etc. and "virtual candles" can be found online at https://rilling-und-partner.gemeinsam-trauern.net/Begleiten/susanne-hatlie. At the moment the site is still publicly accessible for everyone.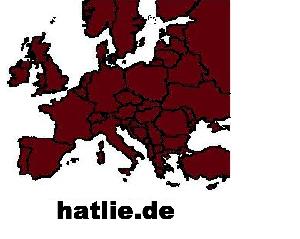 Contact / Impressum:
Dr. Mark R. Hatlie (ViSdM)
Im Feuerhägle 1
D-72072 Tübingen
Germany

+49-(0)151-20495350

info @ hatlie.de